Photo By Jeffrey Schmieg Photography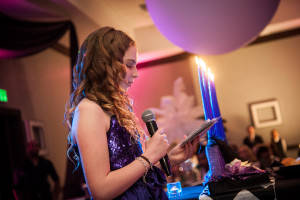 Growing up in the Midwest attending multiple mitzvahs throughout my youth besides the actual party, I was always intrigued by the candle lighting ceremony. I think it's almost like…this is your life, Bat Mitzvah child. Waiting and hoping to be called up during the friendship candle to take that mash pit of friends photo was a highlight, but it was a little daunting as a child too because you really just wanted to get to the dancing and games, but nonetheless, it was tradition.
In my adult years, I have really come to enjoy the candle lighting ceremony. It helps to endear the family to each guest. Each song corresponds to the candlightee and the emotion is put back into the party.
It's so much fun to see the grandparents, aunts and uncles and friends of the family. Maybe you only appreciate this as an adult, but still, it's about tradition. Moving to Minnesota, I was told nobody does a candle lighting ceremony, but guess what…I did it for both my kids.
It personalized the party and let everyone in that room know who our family and close friends were and hey…they deserve that honor too. I guess the bottom line is whatever people are doing or not doing, it's your party and you can do a candle lighting if you want to.